Festival Vendors
---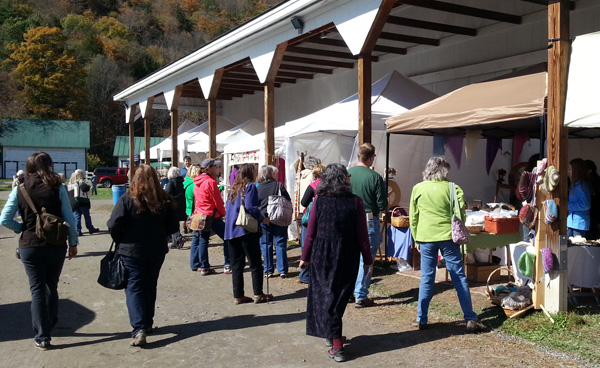 The Vermont Sheep & Wool Festival vendors are spread among several buildings and locations on the fairgrounds, including:
Interested in being a Festival Vendor?
Please visit our "Vendor Info & Applications" page for vendor information, applications and more.
Food Vendors:  We welcome new food vendors! Please visit our "Vendor Info & Applications" page.
---
2017 Vendors
A Hundred Ravens, (Becca Purdin), 19 Cleveland Hill Rd, Brookline, NH 03033, (413) 992-0883, becca@ahundredravens.com, www.ahundredravens.com. Hand-dyed yarns in merino, yak and silk. In addition to incredible full skein colorways we offer mini skein sets and quality gradients, fun coordinating combinations in a variety of bases, kits with just the right yarn for a project, and fun project bags and stitch markers.
Ball And Skein, (Judy Jacobs), PO Box 387, Barton, VT 05822, (401) 484-1120 jj@ballandskein.com, www.ballandskein.com. Hand dyed yarn, buttons, patterns, skeinwinders, swifts, electric winders, etc. Ledbetter spindles and shuttles.
Bartlettyarns, Inc., (Lindsay & Susan Rice), PO Box 36, 20 Water St. Harmony, ME 04942, (207) 683-2251, sales@bartlettyarns.com,  www.bartlettyarns.com 100% wool mule spun yarns & rovings, blankets, sweaters, hats, needles, crafts.
Bedfellows Blankets, (Peggy Hart), 8 Martin Rd., Shelburne Falls, MA 01370, (413) 625-2730, blanketweave@gmail.com, www.blanketweave.com. Cotton and wool throws, cotton place mats, custom blanket weaving for fiber farmers. 
Big Sky Farm Handweaving, (Lee Greenewalt), 315 Riggs Rd., Shoreham, VT 05770, (802) 758-2598, leliaphg@hotmail.com, www.leeweaves.weebly.com Handwoven wool blankets, rag rugs, cotton hand towels & wool scarves, hand knit caps & mittens.
Biltmore Wool Barn, (Mark Stephens & Kathleen Mealy), 98 Slough Rd., Brewster, MA 02631, (508) 385-6114, kammas@msn.com. Roving, yarn.
Blue Heron Farm, (Christine Bourque), 34 Quaker Rd., Grand Isle, VT 05458, (802) 372-3420, harmonyvt@yahoo.com, www.blueheronfarmvt.com. Our own certified organic wool & yarn. Sheepskins, wool crafts.
Boondoggle Farm, (Katy Wolfe), 379 Houghton Brook Rd, Putney, VT 05346, (802) 557-1163, yeskatydid@gmail.com. Registered Finnsheep and Nigerian Dwarf dairy goats. Yarn, woven items, breeding stock.
Boreas Farm Cashmere, (Norma Bromley), 3069 Schoolhouse Rd., Newark, VT 05871, (802) 467-3222, boreasfarm@gmail.com. Cashmere fiber: Cashmere yarn & roving, and cashmere/silk roving & yarn, cashmere/wool roving, and deluxe handknits.
Brigid's Farm, (Jane Woodhouse), PO Box 29, Peacham, VT 05862, (802) 592-3062, jane@brigidsfarm.com, www.brigidsfarm.com. Natural colored angora goats, Schacht & Lendrum spinning wheels, natural dye extracts, fiber.
Brown Dog Fiber Arts Studio, (Heidi Fortsch), 99 Eagle Acres Rd. Apt A, Chazy, NY 12921, (518) 578-4488, hfortsch@twcny.rr.com Dyed roving, handspun art yarn.
Cloverworks Farm, (Katie Sullivan), 4558 Creek Rd, Irasburg, VT 05845. (802) 324-2039. cloverworksfarm@gmail.com, cloverworksfarm.com. Bluefaced Leicester and grade Cormo yarn and batts. Beautiful white and natural pelts.
Contented Butterfly Farm & Sunrise Hill Farm, (Jennifer Cary), 467 Sunset Ln., Windsor, VT 05089, (802) 674-6764, contentedbutterfly@yahoo.com, www.contentedbutterflyfarm.com.  Shetland wool roving & yarn; felting kits; knitting kits; drop spindles; llama fiber; dyeing supplies; patterns (knit & crochet), Zoom looms; needlefelting supplies, BFL yarn, knitting supplies.
Crown Point Alpacas, (Bob Wertz), 1376 Route 30, Sudbury, VT 05733, (802) 558-1564, bobw33862@gmail.com. Alpaca & alpaca blended fibers, yarn & craft items, specializing in handwoven and hooked rugs.
Dillner Hillside Farm, (Jessica Dillner), 528 Hill West Rd., Enosburg, VT 05450, (802) 326-4824, dillnerhillside@gmail.com www.dillnerhillsidefarm.com. Colored angora goats, mohair rovings, dyed locks, handspun mohair blend yarns, and luxury knitwear.
Dirty Water Dye Works, (Stephanie Griego), 18 Clyde Rd, Watertown, MA 02472, (781) 646-4541, dirtywaterdyeworks@gmail.com, www.dirtywaterdyeworks.com. Featuring hand dyed yarn and fiber, knitting and needle felting kits, select knitting patterns.
Ellen's 1/2 Pint Farm, LLC, (Ellen Minard), 85 Tucker Hill Rd, Norwich, VT 05055, (802) 649-5420, ellenshalfpintfarm@gmail.com, www.ellenshalfpintfarm.com. Handpainted yarns and fibers. Knitting kits, patterns, and books. Skacel & Knitpicks needles and crochet hooks, beads, dyes.
Ewe & I Farm, (Jerry & Cindy Yeager), PO Box 155, N. Sutton, NH 03260, (603) 927-4518, eweifarm@msn.com, www.eweifarm.blogspot.com. Wool n' Ewe yarn, roving, batts & socks,*NEW* Woof n' Ewe yarn, roving and batts, raw & washed fleeces, hand knitted garments. Goats milk soap.
Fairy Tale Farm and Hands & Heart Farm, (Alissa Shethar), 1183 VT Rte 125, Bridport, VT 05734, (802) 758-6807, alissa@fairytalefarm.net, www.fairytalefarm.net. Yarns, roving, blankets, crafts & wool toys. Cheeses.
Fantom Farm, (Tom Maxfield), PO Box 212, Worthington, MA, 01098, (413) 238-7756, maxfield@linguist.umass.edu, Wool & mohair roving & batts, yarn, dyed & natural colors.
Favour Valley Woodworking, (Martha Sunderland), 664 Freeman Colby Rd., Henniker, NH 03242, (603) 428-3735. martha@favourvalley.com, www.favourvalley.com. Handmade wood and antler buttons and accessories. Made in New England. All buttons are washable & dry cleanable.
Fiber Stash (Matthew & Kristie Carr) 316 Bonanza Park #2, Colchester, VT 05446 (802) 734-9998. fiberstashvt@gmail.com, www.fiberstashvt.com. Hand-dyed yarn, fiber, and handcarded batts. Eucalan, kits and accessories.
Fitzwilliam Fiber Farms, (Gretchen Wittenborg), PO Box 240, Fitzwilliam, NH 03447, (603) 585-6903, willidog@aol.com.  Roving, natural dyed yarns, colored fleeces, locks, hand knitted goods.
Frelsi Farm Icelandics, (Elaine Clark), PO Box 54, Limerick, ME 04048, (207) 793-4640, frelsi@roadrunner.com, www.mainesheepfarm.com. Icelandic wool yarn & roving & fleece, fiber blends, felting batts, Icelandic sheephorn buttons.
Good Fibrations, (Kristen Judkins), 562 MacIntosh Hill Rd., Randolph,VT 05060, (802) 234-6594, gileadgoats@gmail.com, www.gileadgoats.wordpress.com. Roving, handspun, handknits. Farm fresh yarn & roving, locally produced.
Grace & Miss Mouse Soaps, (Judy Lidie), PO Box 843, Bellows Falls, VT, 05101, (802) 463-3286, j.lidie@yahoo.com, www.graceandmissmousesoaps.com. Handcrafted sheep milk soap.
Green Mountain Hooked Rugs, (Lindsay Krauss), 2838 County Rd., Montpelier, VT 05602, (802) 223-1333, lkrauss@greenmountainhookedrugs.com, www.greenmountainhookedrugs.com. Mill dyed wool fabric, hand-dyed wool fabric, rug hooking supplies including cutters, frames, scissors, hooks, etc.
Green Mountain Romneys & Fine Wool Sheep Farm, (Elizabeth Willis), 7797 Whipple Hollow Rd., Florence, VT, 05744, (802) 345-1360, grnmtromney@yahoo.com, Fleeces, rovings, handspun yarn,& woolcrafts
Green Mountain Spinnery, (Maureen Clark), PO Box 568, Putney, VT, 05346, (802) 387-4528, maureen@spinnery.com, www.spinnery.com. Yarns, patterns, books.
Hampton Fiber Mill & Spinnery (Michael Hampton) P.O. Box 275, 664 E. Main St, Richmond, VT 05477 (802) 734-8615. mhampton@gmavt.net, www.hamptonfibermill.com. Mill yarn, hats, patterns, hat kits, roving, handspun yarn, and hand dyed yarn.
Heirlooms (Lis Barsuglia-Madsen & Michael Barsuglia), PO Box 530., Harrisville, NY 13648, (315) 543-2214, loomy@westelcom.com, www.scandinavianweaveandknit.com. Hand Dyed yarns, yak/silk.merino, swiss silk, brushed kid mohair, merino/cashmere, organic merino, SW merino, alpaca, sock yarn, etc. Own patterns, Finished items.
Heron Pond Designs, (Jennifer Kortfelt) 914 Union Village Rd., Norwich, VT 05055 (802) 649-2334. jennifer@heronponddesigns.com, www.heronponddesigns.com. Hand-woven and hand-knitted accessories, custom knitting and weaving.
Jan Marek Raczkowski Studio, (Jan Raczkowski), 21 Brown St, Bloomfield, CT 06002, (860) 216-2165, Janraczkowski@comcast.net. Hand dyed yarns & artsy handspun hand-dyed yarns, hand knitted wearables, vintage buttons.
Katrinkles, (Katy Westcott), www.katrinkles.com.  Buttons and tools for the fiber artist made of bamboo.
Kind Horn Farm, (Kathy Taft Boyden), 1920 Dowsville Rd, South Duxbury, VT 05660, (802) 244-5679, kathy@kindhornfarm.com, www.kindhornfarm.com. Icelandic yarns, rovings, pelts, handwoven Icelandic rugs. Registered breeding stock.
Mad River Woolery, (Susan Snider), 6163 Main St., Waitsfield, VT 05673 (802) 496-7746. susan@madriverwoolery.com, www.madriverwoolery.com. Fiber arts batts, felt, yarns, millspun 100% VT wool yarn. We will be accepting fleeces for processing.
Magnus Wools, (Marilyn Magnus), 2888 East Peacham Rd., Barnet (Peacham), VT 05821, (802) 592-3320, magnuswools@fairpoint.net, www.magnuswools.com  Handwoven, Hand dyed wool rugs, Border Leicester x fleece & roving, llama roving, handspun yarn, antique Quebec wheels.
Maple View Farm Alpacas, (Deb Bratton), 185 Adams Rd., Brandon, VT 05733, (802) 247-5412, mvfalpacas@gmail.com, www.mapleviewfarmalpacas.com.  Alpaca products: yarn, roving, felt, rug yarn, hand knit garments & accessories, finished products, rugs.
Marble Meadows, (Sue Carey), 2870 US 7 South, Wallingford, VT 05773, (802) 446-2830, suesmysercarey@hotmail.com, www.marblemeadows.com. Cotswold sheep, felted sculptures, needle felting kits and supplies, wool.
Marsh Mallo Farm, (Sean Mallinson), 625 Indian Rd, Fort Plain, NY 13339, (518) 993-5022, sean@marshmallofarm.com, www.marshmallofarm.com.  Jacob sheep, Cormo sheep & Cormo/Angora roving, raw fleeces, washable sheepskins, hand spun yarn, hand knitted & woven garments, French Angora rabbits & more.
Mountain Fiber Folk Cooperative, (Carol Farmer), P.O Box 302, 188 Main St., Montgomery Center, VT 05471, (802) 326-2092, mountainfiberfolk@mac.com, www.mtfiberfolk.com. Vermont fiber, natural and hand dyed rovings, hand knit and handwoven items, art dolls.
Mountain Vewe Coopworths, (Marianne & Richard Dube), PO Box 48, West Newbury, VT 05085, (802) 429-2064, mdube@fairpoint.net. Coated fleece for hand spinners, combed top, hand dyed yarns, sheepskins, honey!
Naturally Inspired, (Kristine Myrick Andrews), 642 Smead Rd., Salisbury, VT 05769, (802) 352-4734, kmanaturally@hotmail.com, www.naturallyinspiredbaskets.com. Handwoven baskets in traditional New England styles.
Nightingale Fibers, (Cynthia De Steuben), 131 Francestown Rd., Greenfield, NH 03047, (603) 547-6645, nightingalefibers@myfairpoint.net, www.nightingalefibers.com. Hand dyed yarns and spinning fibers, patterns, knitting needles and accessories, buttons and gifts.
Northern Vermont Llama Co, (Lindsay Chandler), 766 Lapland Rd., Waterville, VT 05492, (802) 644-2257, northernvtllamaco@myfairpoint.net, www.northernvermontllamaco.com.  Moonlight Llamas, (Jan Stuart), 1402 Terrace St, Montpelier, Vt 05602, (802) 223-7409, www.moonlightllamas.com. Llama fiber products from fleece & rovings to yarn. Handmade hats, scarves, ornaments, stuffed animals, kits and cozies!
Orange Cat Soaps, (Sharon Kerwin), 2131 West St., Cornwall, VT 05753, (802) 462-3486, orangecatsoaps@yahoo.com. Goat milk soap & beeswax candles.
Paradise Bay Farm, (Ann Buermann), 21 Richards Rd., South Hero, VT 05486, (802) 372-5470, ann.buermann@gmail.comHandspinning fleeces, roving, handspun yarn, hand knitted & handwoven articles.
Purple Hummingbird Woolens (Johanna Richardson-Hanft), PO Box 1443., Keene, NH 03431, (603) 762-1663, jrhanft@hotmail.com, www.purplehummingbirdwoolens.com. Handmade woolens for whole family-socks, felted hats, mittens, slippers, knitted legwarmers and wristers, felted zippered vest, felted silk scarves, felted playmats.
QF Labs, (Laura Craft), 6470 Vt Rte 113., Vershire, VT 05079, (802) 685-4640, craft@maplehurst.com. Service: Quantative fecal analysis (Fecal egg count).
River Valley Farm, (Lisa Dachinger), 352 Barker Rd., Pittsfield, MA 01201, (413) 822-9621, lisa@raresheepwool.com, www.rivervalleyfarm.org. All my own fiber animals & I do all dyeing. Cotswold yarn & locks, spinning batts, roving-llama, mohair, goats milk soap, handspun art yarn, handcrafted items from Berkshire Hills & Dales handpsinning guild. Original patterns by Kirsten Hipsky.
Sanctuary's Alpaca Farm, (Jamie Page), 201 MacLean Rd., Alstead, NH 03602, (603) 756-3410, jspage02@gmail.com, www.sanctuarysalpacafarm.com. Hand woven, knit and felted products from our alpaca farm. Natural colors.
Savage Hart Farm, (Peggy & Todd Allen), 2514 Jericho Rd., White River Jct, VT 05001, (802) 281-5850, peggy@savagehartfarm.com, www.savagehartfarm.com.
Corriedale, Cormo & CorriedaleXCormo natural colored yarn & roving.
Sheep and Pickle Farm, please see listing under Cloverworks Farm.
Sheep to Shawl, LLC, (Dominic Cotignola, manager & Donna Druchunas), 315 Elm St, Barton, VT 05822, (802)-731-1049, sales@sheeptoshawl.com, www.sheeptoshawl.com. Lithuanian Yarns, Books, Kits, Patterns, KAL's, Knitted products, Postcards. Meet Donna Druchunas. Craftsy.com Teacher, Designer, Mentor, Knitter, Author & Artist.
Singing Spindle Spinnery, (Carol Johnson Collins), 701 VT Rte 100, So. Duxbury, VT 05660, (802)-244-8025, singspin@madriver.com, www.singingspindlespinnery.com. Louet wheels & carders, woolcraft kits, hand-dyed yarns, dyed wools, hand-spun yarn, baby booties, felted balls, handmade hats, necklaces, earrings using fiber, mittens & scarves. New & used wheels.
SisterZart, (Annie LaBrecque), 560 W. Farms Rd., Canaan, NH, 03741, 603-236-2602, memerelabrecque@yahoo.com, www.sisterzart.etsy.com. Recycled broken china buttons and jewelry, handmade paper and fiber art.
Snowfield Alpacas, LLC,  (Sandi Chouinard), 105 Oak Hill Rd., Enfield, NH 03748, (603) 632-7274, snowfieldalpacas@yahoo.com, www.snowfieldalpacas.com.  Alpaca fiber, yarn, roving and finished products.
Snowshoe Farm, LLC, (Ron & Terry Miller), PO Box 280, Peacham, VT 05862, (802) 592-3153, terry@snowshoefarm.com, www.snowshoefarm.com. Alpaca yarn from our farm, natural and hand dyed colors, alpaca for felting, knitting patterns, needles, hooks, Greener Shades dyes.
Spinning Studio, The (Neysa Russo), 1062 South Rd., Bradford, VT 05033, (802) 249-4715, neysa.russo@live.com. Silk, St Blaise combs, VermontWheel, tapestry, felt.
Still River Mill, LLC, (Greg Driscoll), P.O. Box 397, Eastford, Ct, 06242, (860)-974-9918, sales@stillrivermill.com, www.stillriverfibermill.com.
Yarns, dyes, gloves, hats, mittens, patterns.
Stitchy Women, (Mary Lee Harris), 144 Main St., Poultney, VT 05764, (802) 287-4114, stitchywomen.poultney@gmail.com, www.stitchywomen.com. Yarn, roving, African market baskets, finished product.
Stonesthrow Farm, (Kat Smith), 136 Jack Perry Rd., Wallingford, VT 05773-9350, (802) 446-3325, katsmith@vermontel.net. Covered fleeces, roving, yarn, mohair, dyed locks, pelts, blankets & sheep coats.
Tidal Yarn, (Patricia Fortinsky), 22 Hefflon Farm Rd., Old Lyme, CT 06371, (860) 510-2845, tidalyarns@comcast.net, www.tidalyarns.com. Naturally dyed yarns, fiber from New England farms. Original patterns for sweaters, socks, hats & mittens.
Trafalgar Square Books, (Kim Cook), PO Box 257, 388 Howe Hill Rd., North Pomfret, VT 05053, (802) 457-1911, kcook@trafalgerbooks.com, www.trafalgarbooks.com. Craft books on knitting, crochet, weaving and spinning.
Vermont Drying Racks, (Debbie Ramsdell), 7968 Plank Rd, Unit 3, Bristol, VT 05443, (802) 453-2027, dramsdell@gmavt.net, www.vermontdryingracks.com. Large, medium & small handcrafted wooden drying racks.
Vermont Grand View Farm, (Kim Goodling) 1638 Scales Hill Rd., Washington, VT 05675, (802) 685-4693, goodlingfamily@gmail.com, www.grandviewfarmvt.com, Romney & Gotland yarn and roving, knitting kits, yarn CSA shares – Vendor Pavilion and Animal Barn
Vermont Natural Sheepskins, (Sarah & Rick Scully) Randolph, VT  (802) 728-4433, www.VermontNaturalSheepskins.com.  Naturally tanned sheep and goat skins from our own tannery in Randolph. Hand-dyed yarns from Vermont flocks.
Vermont Sheep & Goat Association, www.vtsheepandgoat.org. The Vermont Sheep and Goat Association is a non-profit agricultural membership organization and has been in existence for over 100 years.
Wiggly Goat Farm, (Krista Diego), 80 Asa Burton Rd., East Thetford, VT 05043, (802) 991-9818, farmer@wigglygoatfarm.com. Angora rabbits, Babydoll Southdown sheep, farm blend yarn, dryer balls, handmade organic soap.
Will-Ewe Farm, (Laurie Willey), 1317 Vail Drive Lyndonville, VT 05851, (802) 626-8349, larrylyn@myfairpoint.net. Cormo fleece, rovings & yarn. Koolaid dyed yarn, baby hats & booties, felted bunny slippers & booties & mittens.
Wing and A Prayer Farm, (Tammy White), 983 Meyers Rd, Shaftsbury, VT 05262. (802) 442-4202,jtwhite5@me.com, www.wingandaprayerfarm.com. Wool, mohair & alpaca roving, farm inspired prints & cards, felting supplies.
Wiseacres, (Christine Staffa), 3 Kelley Rd., Underhill, VT 05489, (802) 899-4061, wiseacres@cstaffa.com.  Mohair locks & yarn.
Wool Tinker (Patty Blomgren) 21 Bunker Rd, East Dummerston, VT 05346 (802) 254-9792. patty@wooltinker.com, www.wooltinker.com. Sheep coats, and spinning and weaving.
Yellow Dog Farm, (Jim Holzschuh and Ellen Thompson), 89 East Shore Rd., South Hero, VT 05486, (802) 372-4556, jim@yellowdogfarmvt.com,  www.yellowdogfarmvt.com. Mohair & alpaca yarns, both millspun and handspun. Turned wooden fiber tools including yarn bowls, knitted items.
Zeilinger Wool Co, LLC, (Kathy Zeilinger), 1130 Weiss St. Frankenmuth, MI 48734, (989) 652-2920, zwool@aol.com, www.zwool.com
Yarn, roving, wool filled mattress pads, wool socks, wool filled pillows & comforters, other fiber items.