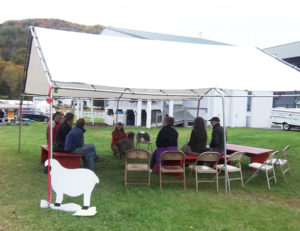 Shepherd Workshops 2017
Our Shepherd Workshops are geared towards the needs of owners – and prospective owners – of small ruminants and other fiber animals. Featured workshop presenters include veterinarians and small ruminant owners who are willing to share their knowledge and experience.
The workshops are offered free of charge and no advance registration is required.
Shepherd Workshops will meet in the Animal Barn Tent which is located across from the Animal Barn. 
Shepherd Workshop Schedule
Saturday
Sunday
11:00am
Sheep 101
with Alison Cornwall  DVM
Breeding for Parasite and Scrapie Resistance
with Katy Wolfe,  Boondoogle Farm
1:00pm
Camelid Q&A
with Ron Miller, Snowshoe Farm Alpacas
Angora Goats vs Sheep: How they are different, how they are similar
with Jessica Dillner, Dillner Hillside Farm
2:00pm
Meet a Bluefaced Leicester
with Katie Sullivan, Sheep & Pickle Farm
3:00pm
Starting a Fiber Farm!
with Krista Diego, Wiggley Goat Farm
 Color Genetics in Angora Goats
with Jane Woodhouse, Brigid's Farm