Fleece Show & Sale
---
The Vermont Sheep & Wool Festival is THE place to purchase top quality fleeces for handspinning or felting. Our Fleece Show & Sale invites owners of all species of fiber-producing animals to enter and/or offer fleeces for sale. It is NOT necessary to enter the show in order to offer your fleeces for sale.
We anticipate the offerings will include a variety of fiber from sheep, llamas, alpacas, goats and rabbits. Fleece Show & Sale will be held in Floral Hall beginning at around noon on Saturday. Details for entering fleeces for sale or show are available below.
This year we are proud to welcome Jozi Best as the fleece judge. Jozi breeds award-winning Tunis sheep. She has years of experience shearing, handling and judging fiber producing animals. You can learn more about Jozi and her husband, Matt, on their website, BestAlpacaShearing.com.
Please read if you are entering fleeces in the show and/or sale:

Click the links in the boxes below to access the files for the Fleece Show & Sale Entry Cards and for the Fleece Show & Sale Summary Form.

Each fleece that is entered in the show and/or sale MUST be accompanied by TWO copies of the Entry Card.

Each person entering fleeces must fill out ONE Summary Form. 

Please follow these rules to help us ensure that we can identify the owners/sellers of fleeces.

If you have trouble opening and/or printing the forms, send us an email and we will try emailing you the forms.

Fleece Show & Sale Entry Card
Fleece Show & Sale Summary Form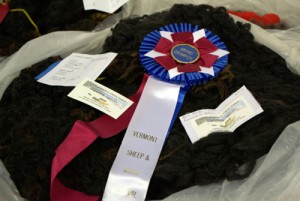 The Annual Fleece Show & Sale is open to all ages with categories for adults and youth. Entries may be dropped off in person on Friday from 4 to 6pm and Saturday from 9 to 10am.
Judging will begin at 10:00am and continue until completed. Contest area is closed to spectators during this time. We anticipate the contest exhibit will be open to the public beginning at noon on Saturday.
All entries will be on display for the duration of the Festival (except for those that are sold). Unsold entries must be picked up on Sunday between 3:00 and 4:00pm.
Fleece Show Categories
DIVISIONS
1 – Sheep – Natural colored wool
2 – Sheep – White wool
3 – Alpaca
4 – Llama– Single coat
5 – Llama – Double coat
6 – Mohair
7 – Cashmere
8 – Other (bison, yak, water buffalo, silk, angora, etc…)
CLASSES
Wool:
1 – Fine (under approx 22 microns)
2 – Medium (approx 22 – 31 microns)
3 – Long (over approx 31 microns)
4 – Double Coated
Alpaca, Llama, Mohair, Cashmere and Other:
1 – Up to 24 months of age
2 – Over 24 months of age
Fleece Show Rules
1 – Fleeces may be entered for SHOW or SALE or BOTH
2 – Schedule for accepting fleeces will be posted at a later date.
3 – Fleece judging will begin at 10:00am. Contest area will be closed to spectators until judging is complete.
4 – Fleece sale begins after judging at approx noon and ends at 4:00pm on Sunday.
5 – All fleeces – unless sold! – must remain on display until 3:00pm on Sunday.
6 – All remaining fleeces shall be picked up between 3:00pm and 4:00pm on Sunday.
7 – Any unclaimed fleeces after 4:00pm on Sunday become the property of the Vermont Sheep & Wool Festival.
8 – VSWF will make every effort to display and care for the fleeces, but assumes no responsibility for damaged, lost, stolen or erroneously sold fleeces.
9 – Fleece should be rolled cut side out and placed in a large, clear plastic bag. For each fleece, fill out TWO COPIES of the  FLEECE SHOW & SALE ENTRY CARD.  Each entrant must also fill out a FLEECE SHOW & SALE SUMMARY FORM. 
10 – Entry fee for Fleece Show and/or Sale is $2 per fleece. Limit 2 entries per person per class for show fleeces only. The fee to enter a fleece in both the show and sale is $2.
11 – Vermont Sheep & Wool Festival will collect 6% Vermont Sale tax from the buyer for each fleece sold and will retain a 5% commission on the sale price. Sellers will receive payment for their sold fleeces soon after the Festival.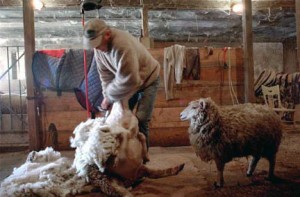 Ribbons and prizes – donated by our vendors – will be awarded to the winning fleeces!
The David Hinman Award for best fleece is donated by the Vermont Sheep & Wool Festival.
Please contact us with questions about the Fleece Show & Sale.